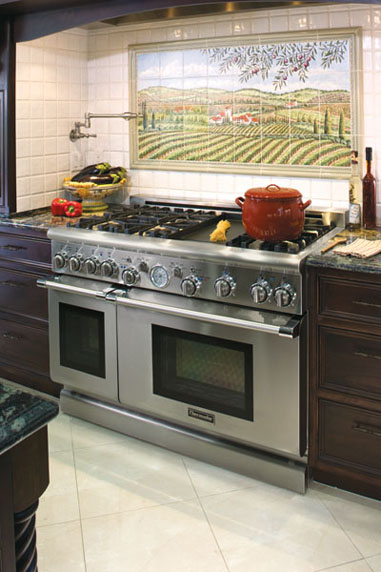 Your cooking appliances help you prepare delicious and healthy meals for yourself and your family. Without a working oven or stove, you'll be stuck dining out, ordering delivery, or microwaving all of your meals. But don't despair: All Brands Appliance Repair is just a phone call away! We're the Wilmington area's choice for effective oven repairs and unbeatable customer service. In the oven repair trade since 1971, our team is one of the most experienced and knowledgeable around. We work on almost every brand and model on the market, including Kenmore, GE, and Whirlpool, and even high-end brands like Viking and Wolf. So if you're ready to learn more about our oven repair services and get your kitchen back up and running, call or e-mail us today! We'll be happy to discuss your oven or stove repair needs.
At All Brands Appliance Repair, we offer both electric and gas oven repair. We also deliver some of the best customer service in town. In fact, we're highly responsive and available for same-day service. And in most cases, we'll complete your repair the very same day! We understand how frustrating it can be when you have an oven not heating or a gas range that won't light. That's why we do our best to give you the fastest turnaround we can.
Whether you need gas stove repair or electric oven repair, our vast expertise will diagnose and fix a wide spectrum of issues, including:
Oven not heating
Oven overheating
Stove burners not lighting
Temperature regulation problems
Self-cleaning malfunctions
Sparking
Popping sound on startup
Gas smell
And much more!
We'll always start your appointment with a thorough examination of your broken cooking appliance to make sure we tackle the problem at its source. We aim to give our customers superior oven repairs, and that means providing effective solutions that last for the long haul. For your added protection and peace of mind, we guarantee each oven repair, stove repair, and range repair we complete. We know how much you rely on your cooking appliances, and we'll work hard to make sure you can use each of them to their fullest potential.
Your Source for Experienced Oven Repairs
The team at All Brands Appliance Repair has more than 4 decades of experience in oven repair service. Whether you contact us regarding gas stove repair or electric oven repair, we'll put everything we've learned in those decades on the job to work in your home. But that's not the only qualification we have to meet your oven service needs. We're also fully licensed, bonded, and insured. You can expect us to leave your kitchen better than we found it.
If you care about prompt attention and impeccable service, then we're the team to call for your stove repair. Contact us today to book the help you need!